Here's what Eva gave the winner:
8 oz. sugar whip in Sweet and Spicy Caramallow, and 2 oz. sizes of Buttercream in Orange Buttercream, Bath Butter in Lemon Loves Coconut, Therapy conditioner in Blue Valentine Cake, and Quench in Vanilla Lust.
I just got my box over the weekend and wanted to post my reviews and how excited I was as I never win anything and to win something from Lilypad! I haven't ordered a ton but what I have ordered, I have really liked so it was nice to try scents I normally wouldn't pick for myself.
Opening the box:
Inside: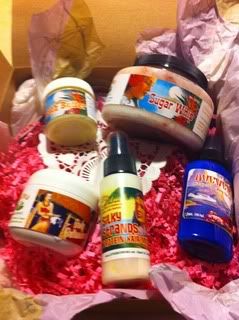 Blue Valentine Cake
A big, fluffy white cake with hints of Blue Sugar type and Let Them Eat Cake type.
My take: I actually really liked this on first sniff and didn't even know what the notes were. I used the protein mist as a hair detangler and it worked like a charm and kept the scent in my hair all night (I showered before bed) and then I used it the next day and still lots of scent.
Lemon Loves Coconut
Tart lemon meringue, coconut cream, and hints of graham cracker crust.
My take: This is a distant cousin of Moona's Lemon Curd & Coconut Cream (aka Lemming Crack, which I hate that name more than anything). I don't smell any graham cracker but it's still a very nice scent. Lathers really well, too.
Orange Buttercream
Rich buttercream frosting, sweet orange, and tiny hints of amber and almond.
This smells amazing in the jar, like cream cheese frosting. The orange comes out more on application and I would have never guessed there would be amber or almond in there. My mom even tried it and said her hands felt very moisturized. This stuff sinks in REALLY fast, too.
Vanilla Lust
Seductive blend of Madagascar vanilla, vanilla orchid blossoms, and hints of amber and musk.
My take: I didn't care for this only because it wasn't foody. You guys know how much I love the foodie scents so this is no surprise that I wasn't a fan. Still very nice, if you like the above notes.
Sweet & Spicy Caramallow
Spice things up with this blend of marshmallows, sweet, creamy caramel, and a hint of chili peppers.
I would have never guessed there were chili peppers in this one! It smells just like it sounds minus the chili. Creamy caramel and lots of marshmallows. I have never used this scrub before but it reminds me of Villainess Smacks that I love. It foams up quite nicely and leaves a nice scent behind.
Thank you Jammies for hosting this giveaway and thank you, Eva, for the lovely package!